As you make your way into the world of cannabinoids and hemp-derived products, you may be a little surprised to see the many ways you can get in your daily dose of CBD (cannabidiol). While CBD edibles, oils, and topicals are popular, just as many people are looking at more potent concoctions in the form of CBD distillate concentrates, CBD hash, and more. If you've yet to try CBD distillate, you are bound to have a few questions about using distillates, how they're made, and more. Here is a closer look.
What is CBD distillate oil?
CBD distillate is considered to be one of the purest forms of CBD you can find. Extracts are created using a CO2 extraction method, but distillate is put through an evaporative process that removes other lipids, plant molecules, and constituents. The end result is a high-potency CBD distillate oil product with a range of potential uses. For example, Hemp Barn CBD Distillate Syringes contain distillate that is more than 69 percent total cannabinoids and 53 percent max CBD.
What's full spectrum CBD distillate vs broad spectrum?
The broad-spectrum distillate is going to yield a collection of cannabinoids beyond just CBD. For instance, our broad-spectrum CBD distillate oil contains other cannabinoids like:
CBG (cannabigerol)
CBDv (cannabidivarin)
CBC (cannabichromene)
What you will not find in a broad-spectrum CBD distillate is THC (delta-9 tetrahydrocannabinol). A full-spectrum CBD distillate will also yield a large collection of cannabinoids like CBG or CBC, but these formulations do also contain small amounts of THC. Keep in mind, however, that the legal concentration of THC in hemp-derived products is 0.3 percent. Therefore, you will only be getting a minuscule amount of the cannabinoid and not enough to cause intoxication.
How to Use CBD Distillate Oil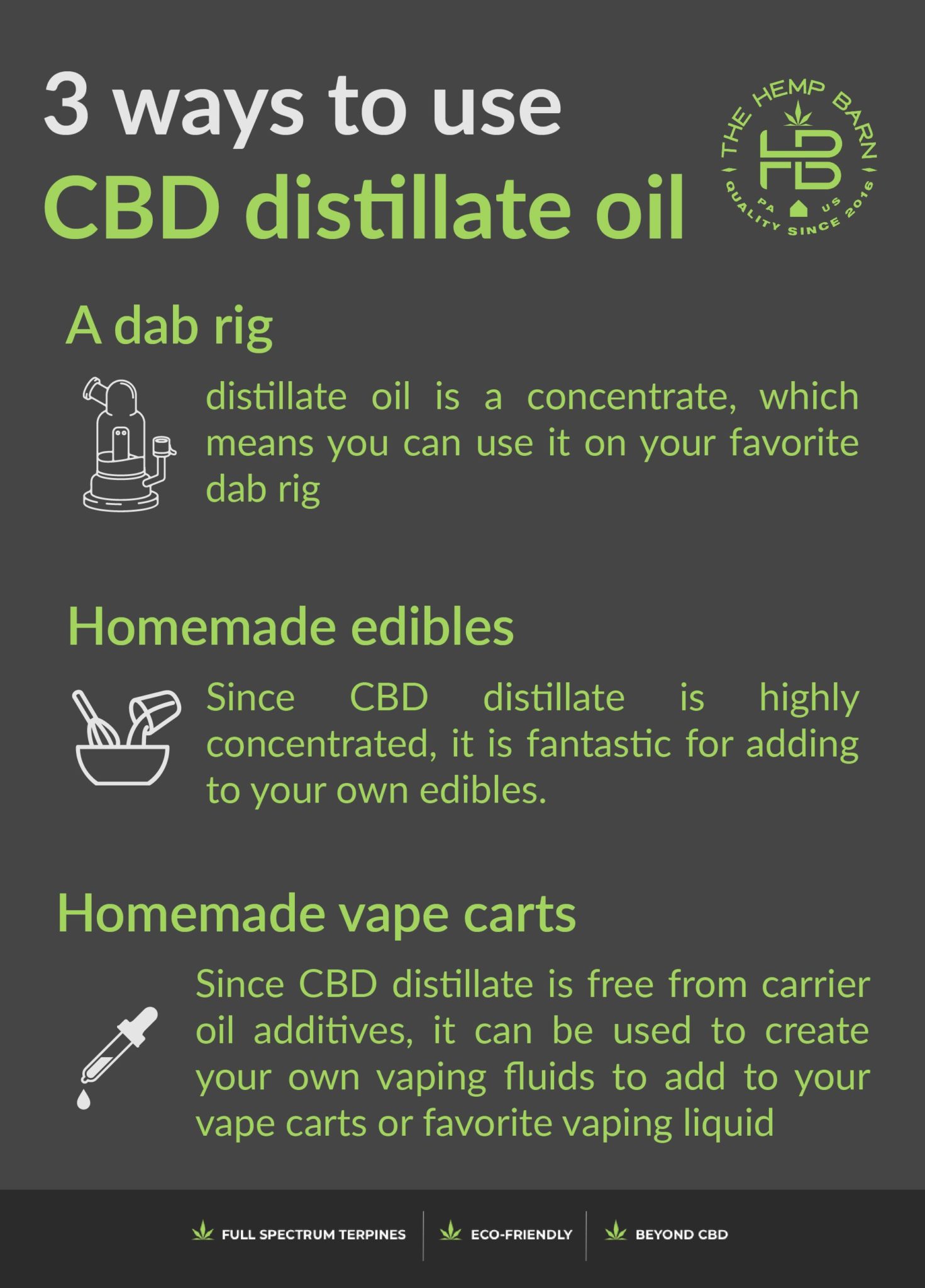 1. Try Distillate Oil with a Dab Rig
Essentially, distillate oil is a concentrate, which means you can use it on your favorite dab rig if that's what you like. Keep in mind, concentrated oils can be a bit easier to use in a dab rig if you pair the rig with a health stone, which is a porous stone that you use in the rig instead of a nail. However, with easy-to-dispense syringes like ours, you could easily add just a tiny dab to your nail for smoking just the same. As an adage, if you have CBD distillate that has crystallized, this can make it easier to use the cannabinoids on a dab rig.
2. Use the CBD Distillate in Homemade Edibles
Since CBD distillate is highly concentrated, it is fantastic for adding to your own edibles. Plus, you don't get any hash-like flavors in whatever you make. You don't have to search far online to find some good recipes. Pot Guide gives a good recipe for creating distillate-infused butter or oil, which can then be used to create everything from baked goods to some types of candy.
3. Add CBD to Your Own Vape Carts
Since CBD distillate is free from carrier oil additives, it can be used to create your own vaping fluids to add to your vape carts or favorite vaping liquid. For example, you could add a few drops to a cart and mix it with your preferred flavored vape juice for a combination of therapeutic quality and flavor. Of course, if you prefer to simply pop in a pre-made cart and be on your way, you may want to check out our Broad-Spectrum CBD Cartridges, which are also created from CBD distillate and free of THC.
Try CBD Distillate Concentrates and More from a Top Supplier
When you try any concentrate for the first time, getting the best quality product is always for the best to ensure the best-quality experience. At The Hemp Barn, we sell only carefully curated hemp products that meet legal compliance standards for quality and cannabinoid content. Take a look at our CBD distillates and other CBD concentrates today.